this
on Pinterest and I thought that might be a cute idea....plus, I remembered I had TONS of dum-dum suckers I bought on clearance after Halloween!! :)
I bought this little jewel at CVS for like 75% off or something LAST Valentine's day.....or at least I think. It was in my stash of this-is-a-great-deal-so-buy-it-because-you-might-use-it-one-day. :)
Kinda sad, but I knew it could be freshened up! I took off all the cheapy-looking plastic and started from scratch. First, I had all of the kiddos sign the pot. Then I started.
I used the same piece of styrofoam it came with and then I started sticking the suckers in it. All around. Everywhere. :) And it looked like this. :)
I liked it but it was missing something......I knew I was going to write HAPPY BIRTHDAY on the chalkboard spot but it needed some height. Hmm....I found some tall plastic sundae spoons. NO idea why I have these. Anyway. I thought they would work....a little hot glue on the back of that thing and there you go! :) (Like my neat work area in the background?) I changed the little flower-thing where you put a photo too. I just added her initial on some scrapbook paper.....better.
Then I attached the two little cute lotion/spray thingies to two other spoons, added a few more dum-dums and wrote happy birthday!!
BACK /SIDE VIEW
She really loved it! Thanks to PINTEREST for the inspiration!
I am linking up here: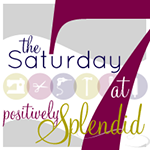 Hi there! I wanted to share something I did this past week for my son's kinder teacher. It was her birthday and I wanted to do something fun for her but something that would not cost a lot. Aha! I remembered seeing