Before.....about to give up. :)
After...better. :)
Bench......
ahh...better. :)
OLD Goodwill 7.99 magazine holder into this.........
beautiful, new scrapbook paper holder. :)
One of our biggest projects....beer top table......here she is before
Grouting, then adding the MANY caps!
Beautiful.....
Wiping it down.....
And then comes the resin. This was the kinda hard part. :)
WE love her!
Remember these.....I think it was 1.00.
Birthday gift for my friend Jane. :) Cork at the top and then a chalkboard at the bottom.

I loved this table...the shape, the bottom...but NOT the fruit and the yellow.....so I decided to paint her.......
This is the bottom.
After three coats of primer, two coats of black paint, and a couple of coats of polyurethrane......we really love it.
Perfect for my craft room......didn't have to do too much.
I just added some numbers and sanded them down a bit!
My husband gets credit for this but i just had to show it.We had iron railing which we love, but just wanted to have a temporary change.....something different.
Hmmm........reclaimed fence. "What can we do with this?", my hubby asks me as he sees a fence being taken down in the front of the neighborhood and asks if he can have it. "Sure, we will even deliver it to your house!" Perfect! (I am sure they thought we had lost our minds. I mean, why wouldn't they want to give us the wood they were about to take to the dump???!!)
But, my hubby had a vision, so with the boys help, he got started. It is built on the outside and it is not connected so we can take it down when we get tired of it.
It looks great. It changes the whole look of the upstairs/house.
Rhett and the boys very proud of their work.
What is so cool is that this is the other side.....the darker wood is turned to the upstairs side and we are going to put up all of our "signs" that used to be in our basement in Ohio. LOVE it.
So there you have it. My list of things to do is getting longer and longer but my first priority is to finish painting my son Chandler's room. I can't wait to show you the pics. :)
So whether you eat or drink or whatever you do, do it all for the glory of God.

1 Corinthians 10:31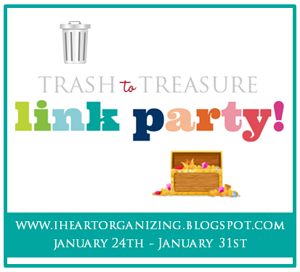 Partying
here
at The RECLAIMED WOOD PARTY!