So, I grabbed one of those $1.00 wooden frames at Michaels. I actually had one around that I had already painted, but if you don't...just grab one and paint it...any color you want.
Then I bought a sheet of moss from the dollar tree. I turned the frame upside down and traced around it on the moss. It is MESSY so be aware!! Then I cut it out and glued it down with hot glue to the frame.
Next, I grabbed some burlap-y ribbon (that I already had),made a bow out of it, and wah-la!!! (Is that a word?) A copycat frame for around $3.00 instead of $55.00....or $74.00! I love it! I gave one away as a Christmas present and I have everything to make a few more.....yay! Whatcha think? Almost as good as the original!! Good luck!!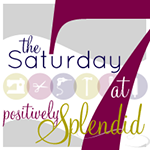 I have been meaning to post this for awhile and keep forgetting! UGH! Anyway.....when I was out of town for Thanksgiving (shout-out to my hometown of Memphis), I saw the CUTEST frame! I was instantly in love...until I saw the price tag......see it??? $55.00?? $74.00??? No way. Of course, the first thing I thought....make it Niki! :)