So....I grabbed one and put it on the back of the chair. Here is a pic of the chair just plain. :)
Then I added some "faux" greenery. I then hot glued a red ornament and a bright silver bell and there you go...I love it!!! It goes great with the centerpiece on the table! The stem is sorta "hung" over the back of the chair.....I will probably cut it off.
All done! I love it!
Now how long will they last before the boys make me take them off???? :)
Linking to this party.......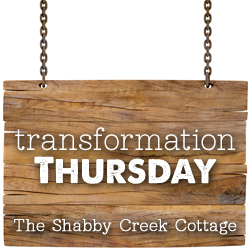 I think this will be my last post with Christmas decor. :) Maybe. :) I was thinking it might be cute to use my coffee bags as chair covers. :) I KNOW my boys and hubby are going to complain....."they are scratchy", "oh...it itches me", etc. but I am going to try and see if we can keep it for awhile. Anyway.